Programming language: C#
License: MIT License
VSColorOutput alternatives and similar packages
Based on the "Visual Studio Plugins" category.
Alternatively, view VSColorOutput alternatives based on common mentions on social networks and blogs.
Managing outdated pull requests is time-consuming. Mergify's Merge Queue automates your pull request management & merging. It's fully integrated to GitHub & coordinated with any CI. Start focusing on code. Try Mergify for free.
* Code Quality Rankings and insights are calculated and provided by Lumnify.
They vary from L1 to L5 with "L5" being the highest.
Do you think we are missing an alternative of VSColorOutput or a related project?

Add another 'Visual Studio Plugins' Package
README

Project Description
VSColorOutput is a Visual Studio extension that adds color highlighting to Visual Studio's Build and Debug Output Windows. Errors are in Red, Warnings in Yellow, build headers are Green. 
Custom match patterns can be added. Colors can be modified.
Developed in C# and NUnit.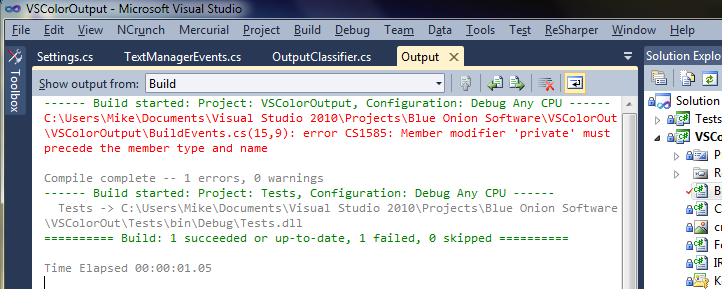 Colors can be edited from the Fonts and Colors dialog under the Text Editor category. Look for items starting with "VSColorOutput".
An option page is is used to add custom match expressions.