Programming language: C#
License: MIT License
Oxyplot alternatives and similar packages
Based on the "Graphics" category.
Alternatively, view Oxyplot alternatives based on common mentions on social networks and blogs.
Ingest, store, & analyze all types of time series data in a fully-managed, purpose-built database. Keep data forever with low-cost storage and superior data compression.
* Code Quality Rankings and insights are calculated and provided by Lumnify.
They vary from L1 to L5 with "L5" being the highest.
Do you think we are missing an alternative of Oxyplot or a related project?

Add another 'Graphics' Package
README
OxyPlot is a cross-platform plotting library for .NET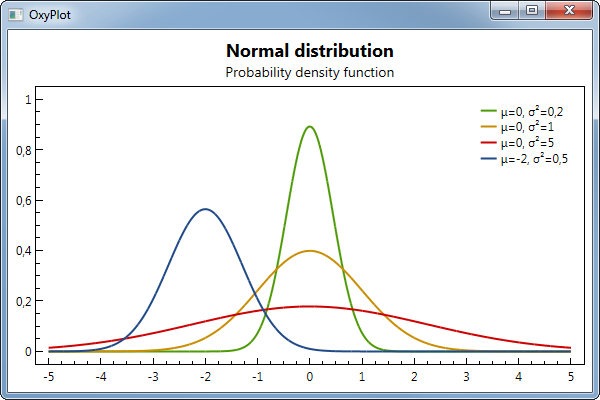 Getting started
Use the NuGet package manager to add a reference to OxyPlot (see details below if you want to use pre-release packages)
Add a PlotView to your user interface
Create a PlotModel in your code
Bind the PlotModel to the Model property of your PlotView
Examples
You can find examples in the /Source/Examples folder in the code repository.
NuGet packages
The latest pre-release packages are pushed by AppVeyor CI to myget.org. To install these packages, set the myget.org package source https://www.myget.org/F/oxyplot and remember the "-pre" flag.
The stable release packages will be pushed to nuget.org. Note that we have have a lot of old (v2015.*) and pre-release packages on this feed, and sometimes these show up even if they are unlisted.
See the wiki for information about the available packages.
More information
Contribute
See [Contributing](.github/CONTRIBUTING.md) for information about how to contribute!

*Note that all licence references and agreements mentioned in the Oxyplot README section above are relevant to that project's source code only.